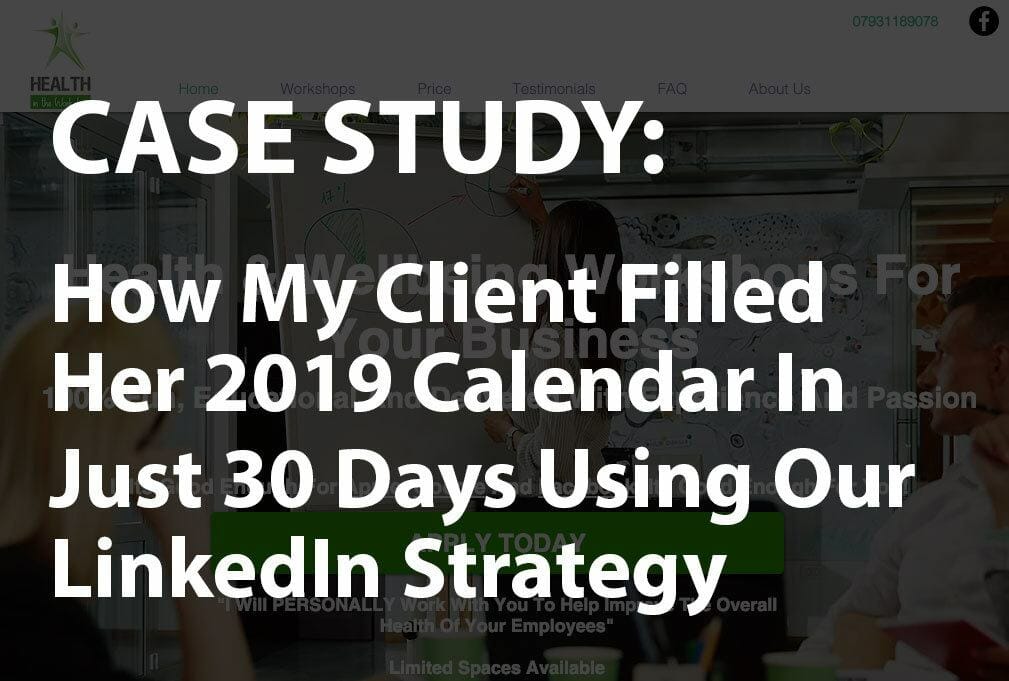 By Chris Bedford | Advertising
"Chris I have built my business from referrals and I need to get my business in front of the right people so I can fill my calendar and scale my business.... But I don't have any money for advertising and i tried advertising on facebook and it stole my money!".......Excuse, excuse, excuse!
Is this you...? This is a common problem for really good solid local businesses. They are confident in their ability and have a proven track record but somewhere deep in their mindset they have a world view that marketing doesn't work or advertising doesn't work or its too technical or Dave in the office has tried but he said it wasn't going to work for the their type of business. For what ever reason the brick wall is built and they conceive that digital marketing doesn't work for them!
I'm here to tell you to STOP thinking too much and sack Dave from accounts!
The Moment Of Reckoning!
Im telling you to sack the metaphorical version of Dave in your mind as this was my advice to my client who procrastinated for over 13 years! For 13 years her health and wellbeing consulting business remained at a fixed number of large national clients and she was pretty happy with that. She new she wanted to grow but the Dave in her head said "your not ready" blah blah blah.
One day my client took a leap of faith and this is what happened...
Using Our LinkedIn Strategy
We went to work... This LinkedIn strategy is usually overlooked and made complicated as a B2B platform. The main goal is to create a conversation with another Human. But before we start connecting randomly to people, we need to define our sales pipeline.
For most businesses this pipeline will work and can be altered if needs be.
Sample Population: Create a list of our target market in LinkedIn's Sales Navigator.
Prospects Contacted: We send connection invites to our sample population. Using a soft approach without any offer attached.
Prospects Connected: A large percentage becomes a connection and we send them a follow up message. We provide value up front defining a problem their business may be facing and that we have the solution to that problem. We demonstrate that we have the vehicle to bridge the gap. We finish with a call the action to book a call directly on our calendar.
Prospects Replied: A percentage of businesses that welcome our message start to engage.
Prospects Booked: At this point we drive them to make an appointment on our calendar at a time of their convenience. This way your sales team or yourself has a structure method to book and make calls to close
Successful Meetings: Depending on your business, we close the prospect on the phone or send them a proposal.
Tools Used
1. LinkedIn Sales Navigator - This allows you to search for your target market and save the list of potential prospects.
2. ScheduleOnce / Calendly - Allows for seamless appointment bookings that has automated reminders to both caller and prospect.
3. Google Sheet / CRM - This allows us to measure, track our efforts and store our new contacts outside of the LinkedIn platform.
Clients Hypothesis
Results based on the a 30 day campaign. (Search criteria, UK - Midlands, Various Human Resource Titles, Company Head count below 200.
The average number of workshops that get booked by her clients is 5 per year at a total of £2,000. With 7 new clients thats an amazing £14,000 of potential new business in just one month of direct outreach on LinkedIn.
Over To You
I hope this post inspires you to try LinkedIn Direct outreach and I'd love to know how this approach works for you. If you have any questions or you encounter difficulties when trying to implement this strategy, let me know by leaving a comment!